Mantra & Yantra Sastra Workshop with Swami Omkar
February 22, 2020

-

February 23, 2020
Invoke the Divine Sound & Cosmic Energy inside You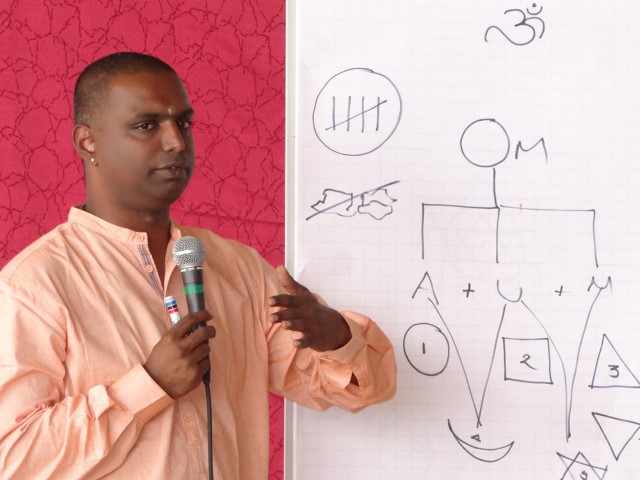 Mantra Sastra is the Indian science of cosmic sound, which teaches that you can understand the creation through cosmic sound, called mantra. By using mantra you can attain a higher spiritual level and merge with the supreme sound.
Practicing mantra is one of the oldest yoga practices called Japa Yoga. Swami Omkar will guide you into the world of cosmic sound and teach you how to practice mantra in your daily life. Your mind and inner world will become vibrant and alive through practicing mantra.
Mantra Yoga helps to:
promote mental and physical health;
 keep your living space and surroundings peaceful;
unlock your brain activity to a higher level;
 create a vibrant life.
Yantra Sastra is an ancient tool to access cosmic energy. Based on sacred geometry, Yantra is a physical device, which helps us to navigate through life; it can be energized and used as a tool for your life and beyond.
In this workshop, you will create a Yantra for health, wealth, overcoming obstacles, and for spiritual growth. You will draw your own Yantra and energize it. The workshop will also enable you to guide others to create their own Yantra for a better life.
A copper plate, copper needle (to draw your Yantra) and booklet are provided.
Swami Omkar

Swami Omkar has been teaching Vedic science and wisdom in India and abroad. He likes to share his deep knowledge with everyone, who is eager to learn these ancient Mantra and Yantra methods to improve their lives and realise their dreams.
Timings: 9.30 AM – 4.00 PM
Price: ₹ 7,500 (lunch and material included)
Please read the General Information before you apply for this course.