WaterDance 1 with Arjana
January 16, 2018

-

January 21, 2018
A 6-day intensive, mainly under water.
WaterDance (also known as WATA or WasserTanzen) is a dynamic, mind- and playful movement therapy. It was developed by Peter Schröter and Arjana C. Brunschwiler in the late 80s.
In WaterDance we explore the breath in various ways. Having an intimate relationship with our own breath is a good base for any healing touch and deep connection. Active and passive breathing exercises and meditations will reveal how respiratory behaviour can affect both the thoughts and the emotions.
We will begin with bringing water-frightened or traumatized people into a soft, slow and safe contact with the underwater world. The very first "submersions" are devoted a great deal of attention, patience and time.
During this intensive, the movements of the "WaterDance Short Form" will be shown and practiced. By moving different body types through water, participants gradually adapt their technique and increase their confidence, ease and graceful fluidity. By using kumbhaka (apnea) under water, the receiver is invited to relax into deep states of inner silence, freedom and joy.
On land, we will examine our ability to really listen to another person and meet them where they are. We will use the group circle as well as break up into smaller groups and pairs.
Visits to the surrounding nature after long periods of time in the water assist us in rebalancing with the earth element. Simple natural tasks bring moments of contemplation and oneness of being.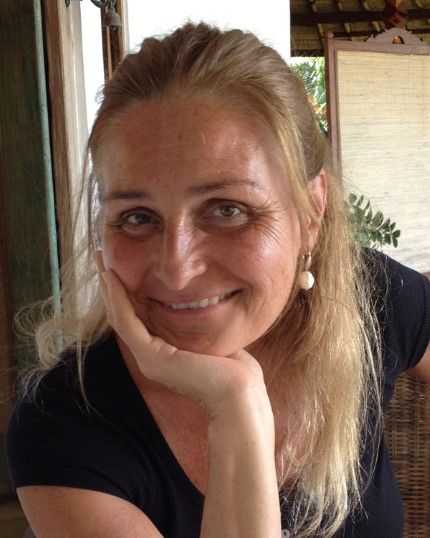 Arjana
"Take a drop of water. If you know how to listen to it, it will tell you about the earth, the sea and the sky… ". 30 years ago, Arjana discovered the beauty and the healing powers of Aquatic Bodywork and since then she is sharing this gift as an international facilitator of WaterDance and WATSU (Europe, USA, Hawaii, New Zealand, Israel, Czech Republic, Poland, Bali…).
Important professional milestones:
– Studying and practicing different forms of bodywork since 1985
– Co-Founder of WaterDance (1987)
– Certified WATSU facilitator (1992)
– Co-Founder and director of the Institute of Aquatic Bodywork Switzerland (1992-2004)
– Founder of the Aquatic Bodywork Center in Belgium "Le Centre" (1996)
In addition to her work in the water, Arjana has been trained in Hatha Yoga (Mexico and Belgium), Hormon Yoga (Switzerland), perineology (BeBo Switzerland), Natural Systemic Therapy (SNT Switzerland), Federal Adult Eduction (SVEB Switzerland), and Subtle Energy Healingwork (Energy Mastery School USA).

Timings: 8.45 AM – 6.30 PM
Price: Rs 29,500 (lunch included)
Please read the General Information before you apply for this intensive.